We're looking for a Karma Yogi to join the Toowong team!
We are currently looking for current or past members who are interested in joining the Zama team as a Karma
Read more.
ANZAC DAY
Thursday 25th April 2019 We will be running a reduced timetable on ANZAC Day. Lest we forget. Toowong Timetable 9:30am
Read more.
RABBIT POSE FOR APRIL
As we hop into Easter it only seems fitting to have Rabbit Pose (Sasangasana) as our Pose of the Month!
Read more.
RESTORATIVE YOGA 2019 TOOWOOMBA
Sunday's 11:00am - 12:30pm with Selena Zama Yoga Toowoomba $29, or $10 for members. Bookings essential as spaces are limited. 
Read more.
AUTUMN EQUINOX
Our wonderful teacher Samantha Lindsay-German shares her thoughts on Autumn Equinox. On the 21st March 2019 we celebrate the Autumn
Read more.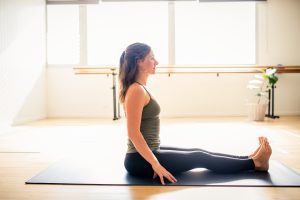 Don't ground the sit bones! Thoughts on Seated Postures
The majority of the population have difficulty sitting in general, let alone for an extended period of time for yoga
Read more.