Join us for a registered 200 hour Yoga Teacher Training Course
Zama Institute offers a fully registered 200hr yoga teacher training course combining the best of Western science with Eastern Yoga philosophy and practice.
Upon completion, you will be able to obtain insurance to teach yoga. You will also be able to further your training with our 350hr Yoga Teacher Training course and post graduate specialities.
Our 200hr Yoga Teacher Training course is rich, diverse, and fully comprehensive. You will graduate as a knowledgeable teacher, capable and confident to deliver a world class standard in yoga teaching. You will be equipped with a scientific understanding of yoga, while experiencing a deep understanding of the spiritual dimension of the practice. We provide students with a broad range of learning experiences including workshops (optional for online students), online learning modules, audio recordings, video demonstrations, readings, practice journal and reflections. Upon completion, you will be ready to teach yoga and impart your knowledge with your students, feeling confident in your practice, ability, knowledge and experience.
Zama Institute Yoga Teacher Training courses remain true to yoga in its traditional form, while offering insight into modern forms and styles of yoga. You will learn hatha yoga asana, which will provide you with the foundation to teach most modern, popular styles of yoga. This will give you the best advantage when attracting students to your teachings, and help you to gain employment. You will also learn and experience the transcendental aspects of yoga, with a focus on mindfulness and presence.
Your teachers in face to face workshops will support you through your journey and impart their years of knowledge and experience with you wholeheartedly. For online students, our support team is ready to help you - we are always here to answer any question you may have! One on one virtual mentoring sessions are also available to purchase if you find you would like additional tuition.
Zama Institute respects the ancient yogic teachings and modern Western medicine, and gives students the opportunity to learn these sciences side by side. This will help you develop a deep appreciation of their value and give you a rich understanding of how you can become the best practitioner in your field.
Studying yoga will be an experience you will always thank yourself for. Whether you wish to teach, or simply deepen your practice and understanding, yoga study is a path of growth and development we encourage you to take.
ABOUT THE ZAMA INSTITUTE
The Zama Institute was founded by Zama Yoga Owner, Senior Yoga Teacher and Yoga Therapist, Nicole Gorry. Zama has been delivering teacher training with the Yoga & Integrative Medicine Institute (YIMI), where Nicole was a co-founder, since 2013. In 2019, the Zama Institute is delivering world-class, internationally recognised training backed by years of experience in the field. The Zama Institute brings you experienced teachers with a wealth of knowledge and an excellent support team to help you through your study.
Our goal is to see you succeed.
what you will learn
History of yoga
Introduction to Sanskrit
Yogic philosophy
Anatomy & physiology for yoga
Energetic anatomy & metaphysics of yoga: chakras, nadis, kundalini
Asana, bandhas & mudras
Teaching techniques, sequencing, alignment & adjustment
Pranayama, mindfulness, meditation, mantra
How to teach group classes, adjust for injuries, pregnancy and common conditions
Learn to teach hatha, yin, kundalini, restorative and vinyasa styles as well as meditation and pranayama techniques
Gain teaching experience as part of the course
course delivery & materials
11 Modules, self-reflection activities, quizzes, practice audios and videos, asana manual with sequences, teaching practice
The course manual is delivered via an interactive online learning platform and is also available a printable PDF so you can choose how you study, however we are always here to support you along the way. For all questions and support during the course, please email info@zamayoga.com.au
All assessment is delivered online and the course is entirely self-directed. We recommend a mentor if you have access to one however we can answer questions you may have. Mentoring sessions are also available for additional purchase should you feel you need additional tuition.
Students have unlimited access to online videos and audios for home practice
Yoga teacher training workshops are an excellent way to develop your skills and learn. Even if enrolled in workshops, they are optional. If you miss any workshops in which you are enrolled, you are able to finish the course through recording practice. So if you can't make all the dates, don't worry, we can help you graduate.
The Zama Institute approach to yoga teacher training is holistic and remains true to the essence of yoga, with a strong focus mindfulness, raising consciousness and developing spirituality.
This course is designed to prepare you for work as a Yoga Teacher in yoga studios, gyms, fitness centres, spas, retreat centres and one on one sessions with clients.
You will be confident to teach a range of styles of yoga classes, tailored to different needs, including children, pregnant woman and the elderly. Not only will you be confident in teaching asana, you will be well-equipped to teach meditation and pranayama.
what's included
200hr Yoga Teacher Training Course Manual (249 pages)
Asana Manual (235 pages)
Yoga Philosophy Manual (113 pages)
27 Video Demonstrations
23 Audio Recorded Sequences
5 Written Sequences
Access to our Online Studio
Loads of prerecorded classes from our online studio
how long does the course take & when can I start teaching
The course is designed as a 12 month program and you will gain experience teaching along the way. Upon successful completion of the course, you will be a certified yoga teacher and able to obtain insurance to teach yoga. If you are confident in your practice and feel ready to start teaching, you may be able to obtain insurance to teach while you are studying.
Contact us to discuss.
Take the next step in your new career and choose your 200hr hour yoga teacher training intake today!
course registration
This 200hr course entitles you to obtain insurance to teach yoga.
This course is fully registered with Yoga Australia. Please refer to Yoga Australia membership guidelines.
Upon completion of our 200 hour yoga teacher training course, you can undertake a range of our courses to upgrade your training.
This course is accredited with Physical Activity Australia and attracts 6 PDP points (KAP2007).
Some yoga experience is required; we highly recommend at least 12 months regular practice, but we do take all cases into consideration. For 200-350hr yoga teacher training upgrade courses (if not combining with a 200hr yoga teacher training course), a 200hr yoga teacher training course must be completed or being completed. Contact us if you are unsure, we are always happy to chat.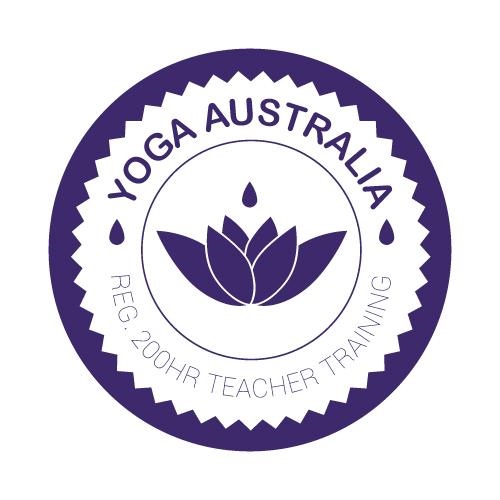 book list
Required books
The Heart of Yoga by T. K. V. Desikachar
Yoga Anatomy by Leslie Kaminoff
Recommended reading (not required):

The Language of Yoga by Nicolai Bachman
The Bhagavad Gita by Eknath Easwaran
Hatha Yoga Pradipika by Swami Muktibodhananda
prop list
The following props are recommended for home practice, and required for online study students:
1 yoga mat
1 yoga strap
1 bolster
2 blocks
2 blankets
Optional props
zafu (meditation cushion)
zabuton (meditation cushion base)
1 yoga chair
skills checkpoint
Are you aged 45 – 70, employed or recently unemployed (less than 9 months) and not receiving Australian Government employment assistance? You may be eligible for a Skills Check co-contribution towards you studies.
Find out more here: www.skillscheck.com.au.