FIND A YOGA CLASS ON OUR BRISBANE STUDIO TIMETABLE
HOT YOGA
Hot yoga in the Toowong, Brisbane studio is based on the yogic concept of tapas – to cleanse with heat or burn away impurities. We all know how great sweating is for the skin and body. By practicing yoga in a heated environment, not only will you detox, you will deepen your practice, renewing cells and healing the body. Zama's hot yoga classes are heated to approximately 35 degrees and are practiced in vinyasa, power and hatha styles. And no, it's not Bikram. Read more here about our hot yoga styles.
VINYIN
Vinyin-ers are grinners! Let the yin balance the yang as this class combines the flow of vinyasa followed by the deep, satisfying stretch of yin. Half an hour of each ensures you leave this class with a sense of balance, your body both strengthened and stretched, your mind cleansed and calm. The collaboration and contrast of the styles in a vinyin class will open the body and allow for a deeper practice - seriously, you'll be showing off those pearly whites by the end of it!
YIN
Yin day is treat day - for your body and mind. Feel those stress levels go down as your flexibility goes up! In yin yoga we hold the poses for longer to allow the body to release into the posture and, just as importantly, to let the mind settle. In a yin class, props are your best friend, and we have a range of bolsters, blocks and straps to make each pose work for you. Read more about Yin yoga here. 
HATHA
Let your inhales and exhales guide your practice as you align and unwind with the beautiful balance of hatha yoga. Hatha is a traditional, well-rounded style of yoga, so you'll start the class with breathing and meditation and move into stretching, strengthening and standing postures. There might be a couple of balances and an inversion thrown in for good measure - here at Zama we always try and keep you on your (yogi) toes!
YINREST
Picture Yin, but even more restful, more restorative. Welcome to your new favourite class fusion, the wonderful marriage that is YinRest.
A beautiful blend of Yin Yoga and Restorative Yoga, this class will combine it all - 30 minutes of yummy Yin to begin with, followed by 45 minutes of relaxing Restorative poses and then a niiiice long savasana at the end - your chance to settle in and meditate, and let all your troubles float away! 90 minutes of pure bliss.
WARM SLOW FLOW
Warm Slow Flow yoga is the sweet-spot between Hot Vinyasa and Yin. Just like the three bears - when you want something that's not too hot and not too cool - this is just right! Expect a meditative flow that encourages you to slow down, tune in and find a different kind of energy; Experience the power of mindful movement and breath. Suitable for beginners and experienced practitioners, slow flow yoga will soothe, strengthen, and stretch, and leave you feeling totally at peace.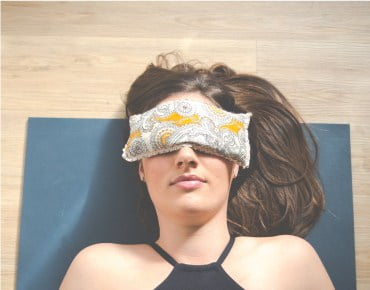 RESTORATIVE
Release, relax and rejuvenate with some restorative yoga - there's simply nothing like it! Restorative yoga guides the body towards a deep state of relaxation that guarantees you'll leave all your worries at the studio door...and...if you're lucky...catch some sneaky yoga zzz's. Each restorative pose is a one-stop-prop-shop, so there are blankets, bolsters, blocks and straps on hand to guide you to where your body needs to be. Feel a true unwinding of any tension and stress in the muscles or the mind as you revive and restore.
YOGA THERAPY
Swap the leather couch for a yoga mat, because our therapists are here for your mind AND body. Private yoga and yoga therapy is ideal for injury and surgery rehabilitation, depression and anxiety, and stress release. It can be a wonderful help during pregnancy, and aid couples looking to conceive. Here at Zama, we work with you to create a holistic program to suit you and your specific needs, both anatomical and mental, and to meet any yogi goals of flexibility and strength that you might have. We have a variety of therapists available for private consultations.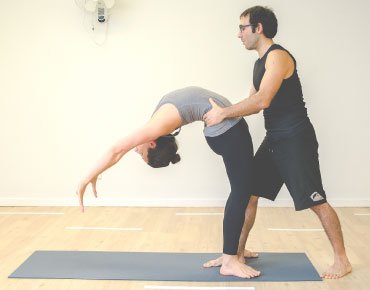 PRIVATE GROUP YOGA
Whether it's your department at work, a hens party, a sporting group, a support group, your school or childcare centre , or even your wedding, we can create a wonderful group experience for you. Yoga benefits everyone in the workplace - healthier and less stressed employees equals less sick days! When it comes to hens parties, for example, we've been known to incorporated games and luscious pampering. We've got heaps of flexible options (we're yoga teachers, after all) so just give us a call or shoot us an email, and we'd be more than happy to sort something out for you and your group… either at your place or ours!
CORPORATE YOGA PACKAGES
Yoga and mindfulness benefits everyone in the workplace - healthier and less stressed employees equals less sick days, higher team morale and better employee retention. It's a no brainer! Get your team into studio classes by choosing from one of our corporate packages, or let us create a private group experience for your team at the studio, your office or an off-site location. Find out more here.
YOGA IN BRISBANE
Millions of people around the world practice yoga, and seasoned yogis swear by its life changing powers.
But what is yoga? How can you practice yoga in Brisbane? How can yoga benefit your health and wellbeing? And what can you expect at a yoga class?
Let's have a look at the ins and outs of yoga – the tradition, the exercise, the lifestyle, the mindset.
What is yoga?
In recent times, yoga's popularity in the West has skyrocketed. But yoga isn't a new practice. In fact, yogic philosophy, asana (posture or pose), and pranayama (breath control) date back over 2,500 years to the Vedic tradition of India and the Himalayas.
Despite the many physical benefits of yoga, yoga is not an exercise program that focuses solely on the body. Yoga is a system that recognises the multi-dimensional nature of the human being. Yoga cultivates physical, mental, and emotional health by nurturing the connection between our body, our breath, and our mind.
If you are considering practicing yoga in Brisbane, a typical yoga class would incorporate the following:
A variety of physical postures that strengthen the body's muscles.
Stretches that improve flexibility and range of motion.
Breathing exercises that increase breath awareness.
Relaxation and meditation exercises that quiet the mind and improve clarity of thought.
Yoga celebrates uncertainty, encourages self-enquiry, and allows space for curiosity. Yoga is about surrendering to the process, trusting the body, and finding peace within.
What are the benefits of yoga?
Although yoga is an ancient practice, hundreds of contemporary scientific studies have observed the physical and emotional benefits of yoga. These studies have confirmed yoga to be a safe and effective practice for a huge variety of both young and old people, including those suffering from a range of physical and mental conditions.
You can learn more about recent research into yoga's benefits here.
9 benefits of yoga
As we mentioned above, hundreds of studies around the world have documented the benefits of yoga on the body and mind. Here's a small sample of some of the ways a regular yoga practice can improve your health and wellbeing.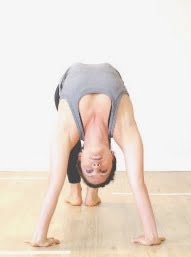 If you're in Brisbane, Zama Yoga's Toowong studio is the perfect place to start experiencing these benefits yourself.
1. Yoga builds strength
You might think yoga looks easy, but after a few breaths in Warrior II, Upward Facing Dog, or Boat pose you'll feel your muscles working. Yoga uses the weight of the body to boost strength and build muscle tone. This not only assists with weight loss, but also helps protect us from back pain, arthritis, and other uncomfortable and limiting conditions. Although other exercises – such as weight lifting – can build strength, yoga increases muscle mass without sacrificing balance and flexibility.
2. Yoga increases flexibility
If you can't bend into Bow pose, reach your toes in a forward fold, or get your heels to the ground in Downward Dog – don't worry. There's no such thing as not being flexible enough for yoga! An increase in flexibility is one of the quickest and most noticeable benefits of sticking to a regular practice. Improved flexibility can ease aches and pains, loosen tight hips and knees, minimise back pain, and perfect your posture.
3. Yoga safeguards your spine
You're only as old as your spine, and yoga is a fantastic way to keep your spine young. Backbends, twists, and forward folds will help deliver precious nutrients to your spinal disks, keeping them soft and supple for years to come.
4. Yoga boosts your blood flow
Whether your relaxing in Savasana, or exercising complete control in a headstand, yoga improves blood flow throughout the entire body.
In resting poses, blood flow improves in our hands and feet.
In twisting poses, our internal organs are flushed with newly oxygenated blood.
In inverted poses, venous blood is drained from the legs and pelvis and returned to the heart. The blood is then pumped into the lungs to be oxygenated.
5. Yoga protects joint health
Our joint cartilage is like a sponge – it only receives new fluids when it is squeezed or wrung out. When we practice yoga, we use our joint's full range of motion. This delivers fresh nutrients to our joints, preventing the cartilage from wearing out and exposing the bone beneath. Ouch!
6. Yoga speeds up your heart rate
A regular yoga practice can greatly improve your cardiovascular health. Fast and/or powerful flowing yoga styles (such as Vinyasa) can protect our heart's health by boosting our heart rate into the aerobic range. More gentle styles of yoga can lower your resting heart rate, improve endurance, and increase your uptake of oxygen during vigorous activities. One study found improvement in cardiovascular conditioning in subjects taught pranayama (breathing exercises) only.
7. Yoga improves balance
Ever heard of proprioception? It refers to our ability to feel into our bodies, to know where our body is in space. Yoga's emphasis on mindful movement improves our proprioception, which in turn improves our balance. Better balance can ease back and knee pain and reduce the risk of falling – which is a massive benefit for the elderly.
8. Yoga deepens sleep
We are always on the go, bouncing from one stimuli to the next, our minds buzzing from morning to night without a minute's relief. Constant stimulation can make it tricky to switch off at bed time, leading to poor-quality sleep, difficulty concentrating, and reduced energy levels. Practicing restorative yoga, Yin yoga, yoga nidra, meditation, Savasana, and pranayama provides some much-needed quiet time, while teaching us to control our mind and find peace among chaos.
9. Yoga promotes self-care and self-esteem
Your yoga practice is precisely that – yours! The more you listen to your body and trust your intuition, the more benefits you will receive. Yoga helps us find gratitude for our body, which teaches us make to decisions that nurture – rather than harm – our physical and emotional wellbeing. Practicing self-care can boost our self-esteem too, as we learn to have confidence in our ability to make meaningful, positive changes.
Styles of yoga in Brisbane
Wanna break a sweat? Or rest and relax? Or learn the ins and outs of yogic philosophy? Or try a little bit of everything?
There are many different styles of yoga you can practice, each with their own benefits. At Zama Yoga in Toowong, Brisbane, we offer a number of class styles. Plus, our hand-picked teachers add their personal touch, making every class a special and unique experience.
Here are the yoga classes we offer:
Hot Yoga: Available in a variety of styles. Classes are heated to a very-warm 35 degrees.
VinYin: 30 minutes of flow and 30 minutes of deep stretching – the best of both worlds!
Yin: Relaxing floor-based poses held for between 3 and 5 minutes.
Hatha: A traditional yoga practice with a focus on alignment.
Warm Slow Flow: A slow-paced flow class heated to a gentle 28 degrees.
YinRest: 30 minutes of yin, 45 minutes of restorative and an extra long savasana
What to expect in a yoga class in Brisbane
New to yoga? Not sure what to expect? We've all been there.
Trying something new is always daunting, so here's a general overview of what goes on at our Brisbane yoga classes. Keep in mind that yoga classes can vary quite a lot depending on the style and teacher.
First things first, you'll need some comfortable clothes, something that allows you to move freely. You don't need to spend hundreds on the latest active wear – just wear something that makes you feel confident. Secondly, you'll need a mat. Either buy your own (we have mats available in our Brisbane yoga studio at all price points), or hire one before your class. Mat hire is $2 (free on your first visit).
Once you're in the studio with your props, you can wait for the yoga class in Brisbane to begin. Zamis love to hang out in Savasana or a supported variation before class.
The class will usually start with a short meditation or breathing exercise, and maybe an introduction to the theme of the class. This is often followed by some gentle physical warm-ups, such as Cat-Cow. Then, you'll move on to standing postures, before completing a couple of final stretches, and maybe an inversion. Finally, all classes end with a relaxation pose called Savasana.
Most of our Brisbane yoga classes run for 60 minutes. Check the Brisbane Yoga Timetable for details.
Practice yoga in Brisbane today
Reap the benefits of a regular yoga practice at our Toowong yoga studio in Brisbane. Visit the Brisbane Yoga Timetable to find your next favourite class. Feel free to phone us on +61 434 787 044 with any questions. See you in the studio.