Warm up and slow down. Tune into your body, and move with your breath. Join us at a Warm Slow Flow yoga class.
Warm slow flow yoga is one of our newest classes, and it's already a firm favourite. Hitting that sweet spot between hot Vinyasa and Yin, this nourishing class encourages you to tune deeply into your body, and move mindfully.
Get hooked on our warm slow flow classes. Visit our Brisbane yoga timetable and Toowoomba yoga timetable to find a class that suits you.
What is warm slow flow yoga?
Warm slow flow is unique. We move, but slowly. We listen very carefully to our bodies. And we breathe deeply through the strengthening and stretching.
Warm slow flow classes are a mix between hot Vinyasa and Yin. The studio is heated to a warm 28 degrees. This temperature is quite a lot cooler than our hot yoga classes, which are heated to a scorching 35 degrees.
The practice is slow, fluid, and mindful. The key is to tune into your body, to be guided by your intuition, and to move in a way that feels good, that serves who you are in the present moment. Expect a variety of seated and standing poses, which flow seamlessly together. Each sequence is repeated, creating a sort of moving meditation.
Warm slow flow is ideal for all yogis (beginners included) looking to chill out, open their bodies, and quiet their minds. It's a great way to explore the benefits and sensations of heated yoga without the intensity. That's not to say you won't break a sweat!
Benefits of warm yoga in Brisbane and Toowoomba
If you've ever practiced yoga in a heated environment, you know just how good it feels to move that little bit further, to stretch that little bit deeper, and to feel the amazing sensation of each and every pose a little bit clearer.
Aside from feeling great, warm yoga offers numerous benefits. Here are just three.
1. Warm yoga facilitates deeper stretching
In a heated environment, the superficial structures – including your ligaments, muscles, tendons, and fascia – warm up. This allows you to relax further into each posture with greater ease, comfort, and fluidity. The more you can surrender into each pose, the greater the benefits.
2. Warm yoga helps with detoxification
Although warm slow flow doesn't get quite as sweating as our hot power classes, you will still get a bit sticky. As we ramp up our sweat glands, we promote detoxification. This happens in a number of ways:
Heat stimulates the lymphatic system, which plays a role in flushing out nasty toxins that build up in your body over time.
Sweat does more than keep you cool. Many toxins are released through the largest organ in your body – the skin.
Even though we aren't pushing our bodies to the limit in our warm slow flow classes, we are using energy and sweating. This can make us really thirsty. Increased water intake can have a cleansing effect on the body, as unwanted substances are flushed out.
3. Warm yoga increases your metabolic rate
Our warm slow flow classes are designed to be gentle and soothing, with more challenging options offered to those who feel up to it. If you want to curl up in child's pose for 30 minutes, we're not going to stop you! That being said, the slight increase in temperature can make relatively 'easy' postures a little more challenging. That's because your body is hard at work cooling you down.
Heat causes your heart rate and metabolic rate to increase. This improves your cardiovascular health, and increases your ability to burn fat and tone muscle.
What to expect in a warm slow flow yoga class?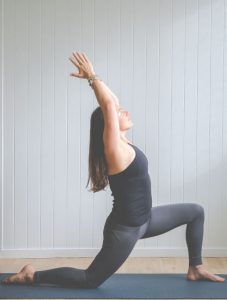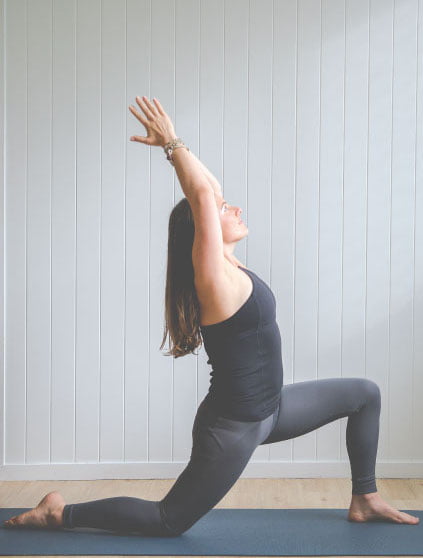 Not sure warm slow flow is right for you? Want to know exactly what to expect?
It's only natural to feel a little apprehensive about trying a new yoga class, especially a heated class! Here's a quick overview of what you can expect at a warm slow flow class. Do keep in mind that all of our lovely teachers have their own teaching style, so classes will vary.
Warm slow flow classes often begin in everyone's favourite pose – Starting here allows you to come into your body and breath, arrive on your mat, and check in with how you are feeling. Remember, warm slow flow encourages you to take control of your practice. Take the time to find out what you need, and use that to guide your movements.
Then, we often practice a seated flow. The class begins very gently, allowing you to gradually wake up the body, and come into a state of yoga.
This is followed by a standing or kneeling flow. As the class progresses, the teacher will suggest different postures – some will be challenging, others deeply relaxing, all with strengthen, stretch, and soothe. Don't worry about anyone else in the class; choose a posture serves you.
After the standing flows, we often come into a few deep stretches. These may be held for a couple of minutes, much like a Yin class.
The class ends where it began, in Feel the space you have created in both body and mind.
If you have any additional questions or would like more information about our yoga classes in Brisbane and Toowoomba, feel free to call the studios. You can find the phone numbers at the bottom of this page.
Is warm slow flow yoga suitable for beginners?
Absolutely.
All classes at Zama Yoga in Toowong and Toowoomba are suitable for beginners. That being said, you may not want to jump right into a hot power class right away. Warm slow flow is a perfect starting point.
Practice warm slow flow yoga in Brisbane or Toowoomba
Find your next favourite yoga class in Brisbane by checking out our Brisbane yoga timetable. Or discover the joys of warm slow flow yoga in Toowoomba and visit our Toowoomba yoga timetable.
Feel free to phone the studios on 07 3162 1652 with any questions. We hope to see you in the studio soon.