Do you want to know what a down face dog is, or what the difference between Warrior I and Warrior II is? zama offers beginner's yoga courses to help you learn!
zama's beginner's yoga course will help you understand the basics of yoga asana practice so you can feel more confident in your practice. Even if you've been doing classes for a little while, this course will help you by breaking down poses and correcting your alignment. 6 weeks, 6 workshops to get you aligned, adjusted and aware!
COURSE TOPICS
Week 1 - The Basics, Yogic Breath & Seated Asanas
Week 2 - Core, Twists & Standing Asanas
Week 3 - Forward & Backward Bending
Week 4 - Mudras, Bandhas & Pranayama
Week 5 - Arm Balances & Inversions for Beginners
Week 6 – Putting it all together
$110, or $90 for members*
The course is not a hot yoga course. It is a general hatha yoga course. All equipment is provided. Please wear comfortable clothing. If you cannot attend all six workshops, you can attend a minimum of 4 for $80, or 5 for $100. Please contact us to book for four or five workshops. No refunds, exchanges or transfers. Missed classes cannot be made up. Upon completion of this course, you will be ready to simply attend classes. Courses are run throughout the year.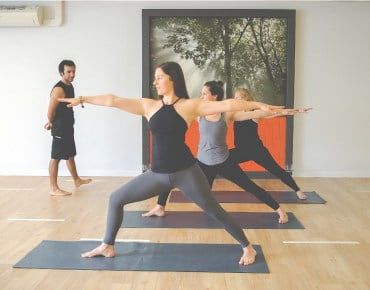 Where to from here?
So, you've finished your beginners course - what next? Time to try some classes!
We suggest hatha yoga and yin yoga (which are both non-heated) to get you started - hatha is a traditional yoga style which gives you a well-rounded understanding of the practice of yoga, and yin yoga provides a deep stretch and a quietening of the mind. From here, you might then like to try our range of hot baths, power and vinyasa yoga classes, as well as our zamalates (yogalates), Pilates and barre classes! You can check out our Brisbane timetable here, and our Toowoomba timetable here.
If you have only done a course or workshops, and not attended a class, you are entitled to our new client deal too, so make sure you sign up for those!
*Members includes anyone on an Ongoing Membership, or on a 1 Month Membership, 3 Month Membership, 6 Month Membership or 12 Month Membership that is current at the time of the course/expires after this course's duration.